Print Page
­
­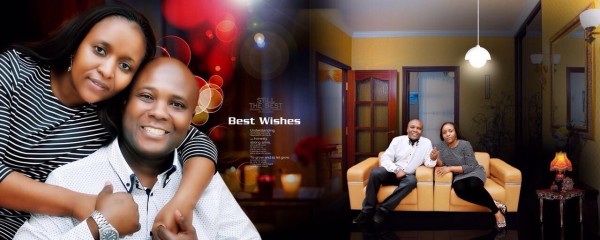 Dr. Andrew & Dr. Prudence Chikwanha are the Senior Pastors and Founders of New Dimension Kingdom Fellowship. These two have been in ministry for 15 years as Pastors. They have been married since 1999. They have two children , Thabani and Thando. There is no doubt about their love for the Kingdom of God, hence they have dedicated all their life work and ministry to God.
After ministering in a denominational church for close to 20 years, God spoke to Pastor Andrew about the vision of starting New Dimension Kingdom Fellowship. Pastor Prudence , being the prayerful woman she is, she told Pastor Andrew to tell his God to tell her as well. This did not take very long. God is faithful. She came home one day rejoicing and confirmed the vision. New Dimension Kingdom Fellowship was birthed in 2011.
They both minister in unique ways. Pastor Andrew is a Pastor , a Teacher of the Kingdom of God, a father to many, an author, an internationally sought after speaker, a husband and a father at home.
Pastor Andrew delves deep into the Word of God extracting and imparting knowledge and understanding of the Word . He is known for his ability to simplify the Word to a digestible message .Pastor Andrew is a firm believer of the transformation that the Word brings to humanity. He conducts family life, marriage, youth life coaching seminars and workshops.. He is a sought after model for today's men. His life is an example to many youth and families. He has a passion to see others succeed. This Man of God has a very sharp eye for upcoming leaders. He recognises potential leaders, grooms them and releases them into their destiny. Pastor Andrew is a practical person who wants to see the Kingdom of God in people's lives. He is teacher, pastor, brother, father and friend to many people. Pastor Andrew has a passion for souls. God has commissioned him to preach the good news of the Lord Jesus Christ to the dying world. 'Announcing the Kingdom of God to all nations' is his main message. Many churches have been planted in the UK through his ministry. He just loves the work of God. Pastor Andrew is totally sold out for Christ. His life just says it all.
He is complemented by Pastor Prudence who is a virtuous Preacher, a Worshipper, a woman of excellence, a mother and a lover of people..
Pastor Prudence is also the President of the Chosen Kingdom Pearls Ladies Ministry. She is an ardent worshipper and believes in the art of worship in dance. Pastor Prudence is a certified florist, cake maker, decorator, specialising in interior decor. She is a business woman and a mother whom many women aspire to be like. She is also a zealous teacher and preacher of the Word of God. This vessel of God loves to see excellence in all aspects of life
There is no better union than two people who both love building and transforming other people's lives This beautiful couple carries themselves with integrity and authenticity they are very honesty, have good judgment, and have high ethical standards. This is transparent in their interactions with others and in all church and every day business. Pastors Andrew & Prudence are ethically lawful and consistent not only in their actions but also in words.
It is very easy to trust them to be your leaders as they authenticate leadership attributes in their conduct. They seek the Kingdom of God as a first priority and then all else follows in their life.